'HAPPY NEW YEAR EVERYONE'
(  SEE  FUNDRAISING  PAGE  FOR  DETAILS  OF  NEXT  EVENT  )
Our brave swimmers had lots of fun at the event - and they all survived!!!
Please thank them for their effort by Sponsoring them - it's not too late (CLICK on link below)
All money raised is spent on the maintenance, running costs and the promotion of M.V. Freedom
'SWIM   FOR   FREEDOM'
Freedom is back in the water - ready for the Weymouth Harbour Xmas Day Swim.
To Sponsor Our Brave Team of Swimmers
Please click   http://uk.virginmoneygiving.com/fund/mvfreedom
It is not to late to join our team and Swim for Freedom.  Just contact Jill   07810 224773
Scroll down to see three of our 4 swimmers.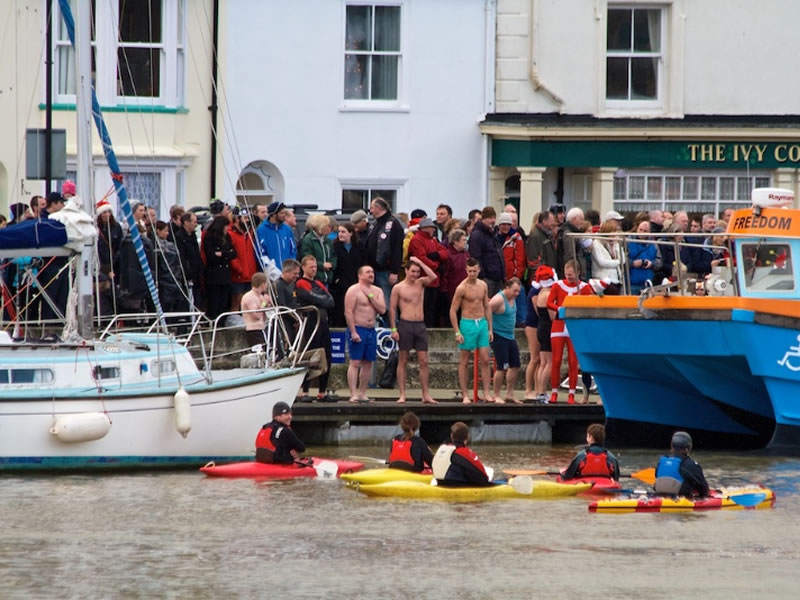 Max Hetherington,   Jack Hunter,   Richard Meers  &  Caroline Churchill (not pictured) Mayoress of Weymouth & Portland.
 Fund Raising/Events Diary 2016 – 2017
We Need Your participation and help with all of these events
Details to be confirmed for Chris Payne's Golf fundraiser's.
Details for a Event at the Sailing Academy (Possibility)
Details for date of Video Promotion of the Charity and M.V. Freedom to be confirmed.
Hopefully we will be holding another music night.
Sat 10th December Christmas Karaoke – Waverley Pub, Abbots bury Road ( 8pm )
Sat 17th December ASDA collection.
Christmas Day Weymouth Harbour Swim (Support our Swimmers and M.V. Freedom on the day)
Sat 25th March Race Night at Pilgrim House ( 7pm ) Start (details to follow)
March  Frans Quiz Night (details to follow)
April Fish and Ships Portland Marina (details to follow)
Saturday 20th May Barn Dance West Fleet Holiday Farm (Hangers Heroes Details to follow)
Wednesday June 7th  Abbotsbury Swannery Walk.
Friday 21st - 22nd - 23rd July Smugglers Wyke Festival
Sat 3rd September (Hangers Heroes Run) Volunteer Marshals Needed
October (Hangers Heroes) Pumpkin competition Wyke Horticultural Society
November End of Season party/get together.
Christmas Day Weymouth Harbour Swim
Please keep an eye on the Diary Page on the Website.  All these and New Events will be supported on our Facebook.
What others say about the MV Freedom.
"I always enjoy the trips, the crew are very good and helpful, it is lovely to be to have the sea breeze in your hair, we have had some wonderful trips, I would fully recommend it to anyone".
"I felt very safe, you are fully fastened in and provided with a life jacket. We went to Lulworth which was beautiful, they certainly know the best places to take you".
Quotes from some of our passengers from the Acorns day centre.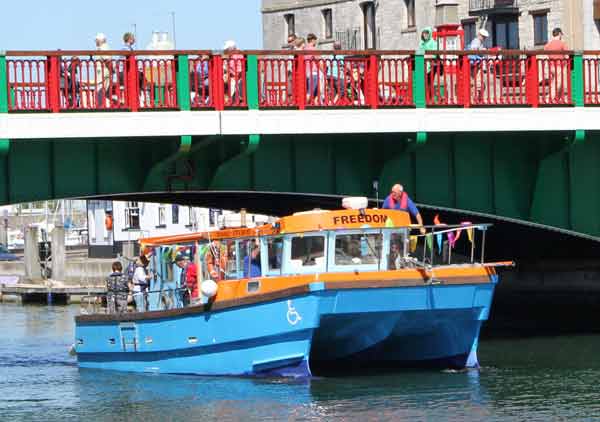 We are a charity called, 'The Friends of MV Freedom' that has been registered since 1984. We provide an opportunity for people with disabilities, the elderly and young people to experience a trip to sea.
MV Freedom is the second vessel to be operated by the charity and has been adapted to safely carry a maximum of 12 passengers including six wheelchair spaces. The boat is moored in Weymouth Harbour and is accessed by ramp opposite the council buildings. She is Skippered and Crewed by trained volunteers.
Our sole intention is to provide a very special adventure for our treasured passengers.  We sail on the stunning Jurassic Coastal waters of Dorset and provide sightseeing, fishing and picnic opportunities. Our trip destinations vary between Durdle Door, Lulworth Cove and Portland Harbour depending on sea conditions. In 2014 we sailed with over 1,000 happy passengers and our aim is for you to help us smash that this year.
Our regular passengers include people from residential homes, day centres and special needs schools throughout Dorset and the surrounding counties. We are also happy to carry less able holiday makers and day trippers from our community.
Our voluntary Crew and Skippers aim to provide a safe and enjoyable atmosphere for our passengers with tales of monster Mackerel and Moby Dick sightings a regular feature.
MV Freedom was recognised for her work with the disabled, by being trusted with the privilege of carrying the Olympic Flame for the 2012 Paralympic sailing events held in Portland Harbour. An extremely proud moment for all of our volunteers and passengers.
The charity is completely reliant on fund raising to survive. Every penny donated is spent on the running, maintenance and promotion of MV Freedom. We are currently raising funds for a new boat.