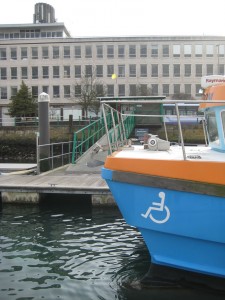 BOOKINGS / ENQUIRIES / CANCELLATIONS  07974 266867
FUNDRAISING / IDEAS & EVENTS / HELPING /  VOLUNTEERING /  BECOMING A FRIEND, please contact   Jill      07810 224773    Email  jill@mvfreedom.co.uk
treasurer@mvfreedom.co.uk    Joan  Edgington
aguayrechrissie@hotmail.co.uk   Christine Payne (Chairwoman)
MVFreedom is moored directly in front of Weymouth Council Offices
The nearest SAT NAV post code is DT4 8TA  if you would like a map ref, please click here.
ACCESSING THE BOAT:
Disabled parking is available in the public car park at the Council Offices. A dropping off bay is by the Council Marina entrance which is directly opposite the Council Offices.
From this entrance you will be able to see and access the boat, if you have booked a trip, crew members will be looking for you, ready to gain you entrance to the marina and welcome you on-board.
There are no obstacles, we have wheelchair access from the pontoon. Once on-board passengers are welcomed by the rest of the crew and the skipper. Have a great trip.